Email is a part of many web hosting services. Most of small business entities consider email hosting as far more important than their website and other email application. When we rely on email for our daily communications it can really affect operations if there are any problems like server downtime and slow relays. stable email@outourowndomain.com gives us peace of mind, Let's do a comparison of the multiple options we have.
CPANEL EMAILS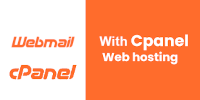 Sometimes for Small businesses it's best to stick with cPanel email hosting that comes with your website hosting plan. It works out more cost effective for clients that need to manage a lot of users due to the "all in one" pricing and storage that comes along with the hosting plan– not the per user account. Will cost less compared the other emailing options like Google workspace and Office 365. The webmail interface will be simple but easy to manage, often with email size constraints and also made to work with desktop and mobile email client applications.
Google Workspace
The more popular Google Workspace comes with email, chat, files, meetings and your favorite apps with an experience powered by Google AI so that you can safely connect, create and collaborate email options along with loads of other, and one of the preferred email providers out there. The email web interface is great (it's the same as Gmail), almost every email application has an option for easy setup. As part of the subscription starting from Rs. 125/month we get full access to Docs, Sheets, Drive, Contacts, and Calendar. With these they cover almost all of your business and collaboration needs.
Microsoft Office 365
Microsoft has its own business and collaboration application with the brand Office 365, equally powerful like the Google workspace, The basic plan comes with a storage space of 1TB per user, The higher plan price tiers get you hosted email and fully licenced Microsoft Office software, plus 1TB of OneDrive for file storage as part of the package.
This will be best to choose if you need Microsoft office license along with emailing embracing the Microsoft Office ecosystem for your business needs.
For pure email hosting, you can go with the MXroute, plans starting with a maximum of 10Gb, 25GB or 50GB per membership and cheaper rates, this is useful when you are satisfied with their email space restrictions for a membership with all of your multiple emails addresses. There is no restriction in the number of email addresses limited by storage space and domains. MXRoute Supports SMTP, IMAP, POP3, multiple webmail choices, security and spam filtering.
Contact us for technical support setting up your mails, migration of existing email service to any of the latest email solutions.